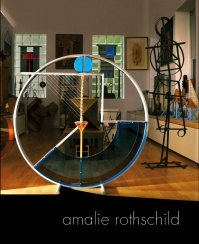 Anno/Year 2012
512 pagine/pages
illustrato/illustrated
245x310 cm.
ISBN 978-88-97080-30-5
€100.00

Utilizzando il codice sconto 2021 potrai usufruire di uno sconto del 5% su tutte le pubblicazioni. Per ordini superiori a € 20,00 spedizione gratuita.







Condividi la scheda di questo libro


Tweet
Amalie Rothschild

Edited by
Amalie R. Rothschild
Angelo Pontecorboli
Essays
Nancy G. Heller
Percy North
J. Susan Isaacs
Herbert L. Kessler
Angelo Pontecorboli
Fred Lazarus IV
Tom Haulk
Amalie R. Rothschild
The artist Amalie Rothschild (1916-2001) lived and worked her entire life in Baltimore, Maryland. During her six-and-a-half decade career she made significant contributions to the cultural and artistic environment of the city and local area. She is best known as a painter and sculptor working in a variety of materials including Plexiglas, aluminum, bronze, bark, handmade cast paper, and particle board, as well as oil, acrylic, and watercolor. Her oeuvre encompasses the dramatic range of style, media and message that characterized the questing spirit of the best of 20th-century art. Her work also explores the challenges faced by a creative woman in an era of major social change. Her output, despite its often abstract geometric appearance, was frequently self-referential and regularly dealt with the issues of balancing the duties of wife and mother with the strivings of the artist, while at the same time paying homage to historical themes. During the 1960s Rothschild broke out from her often hard-edged geometric paintings into sculpture and created more than 375 works, from large outdoor and sometimes monumental pieces, to elegant, table-top scale spatial explorations, to linear pieces that have been described as "drawing in space." Beginning in the feminist 1970s Amalie Rothschild created her most innovative work, a series she referred to as Vestments. Constructed of sculptural materials, including aluminum and translucent colored Plexiglas, cord and handmade chain links, the non-wearable forms are designed to hang and be seen from front and back, more in the manner of textiles than sculptures. Throughout her life Rothschild drew almost every day, creating hundreds of works on paper. She also worked tirelessly as an advocate for opportunities for other artists in her native city. When she died she left a vast oeuvre comprising approximately 1500 fully realized works in all media, some 340 of which are in private collections and museums.
The volume, a practical "portable museum" of her most significant creations, makes her varied artistic output available to a wider public.
As contributor Nancy G. Heller observes: "Amalie Rosenfeld Rothschild appeared on the American art scene at a challenging time. She was a woman, when artists were supposed to be male; she was American, at a time when important art was still expected to come from Europe; and she lived in Baltimore—which, while hardly a cultural backwater, was not New York City, then regarded as the center of art in the U.S…Over the course of six and a half decades she managed to surmount traditional prejudices—about the abilities, rights, and obligations of American women; about commercial vs. fine art; about artists who constantly explore new ways to express themselves; about people who live outside New York City; and about the validity of supposedly-serious art that also dares to be funny."
J. Susan Isaacs: "Rothschild's paintings and sculpture reveal a complex personality and vision, an artist who was constantly exploring, forever learning, and insistently independent."
Fred Lazarus IV, President of the Maryland Institute College of Art writes: "Amalie's zeal for creating an active community of artists in Baltimore, and for fostering opportunities for artists
to show and sell their work, grew out of her deep understanding of the challenges that artists face… She was a true artist-advocate."

The book is the fruit of ten years of research and work by the artist's elder daughter and namesake Amalie Randolph Rothschild and her husband, the Italian architect, artist and publisher Angelo Pontecorboli.