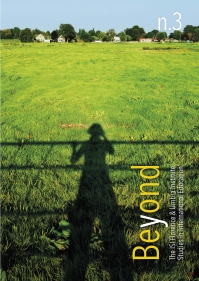 Anno/Year 2020
94 pagine/pages
illustrato/illustrated
17x24 cm.
ISBN 978-88-3384-080-2
€20.00

Utilizzando il codice sconto 2021 potrai usufruire di uno sconto del 5% su tutte le pubblicazioni. Per ordini superiori a € 20,00 spedizione gratuita.







Condividi la scheda di questo libro


Tweet
Beyond 3

The ISI Florence & Umbra Institute Studies
in International Education
Editor in Chief
Daniel Tartaglia
Associate Editors
Stefano Baldassarri,
Nina Peci
Editorial Board
Brian Brubaker, Stacey Hansen, Adam Henry, Alison LaLond Wyant, Parshia Lee-Stecum, Ross Lewin, Giuseppe Mazzotta, Alessandro Polcri, Portia Prebys, Roberta Ricci
Lorna Stern, Kristi Wormhoudt, Matthew Yates
Design and layout
Nina Peci
Contributors
Pierluca Birindelli, Federico Damonte, Marco Bracci, Francesca Passeri, Franco Pisani
The students of MARYStudio:
Maria Fernanda Farieta, Alex Hall, Alicia Moreira, Ryan Muir, Ben Ripley
Contacts
E-mail: npeci@isiflorence.org – www.isiflorence.org | www.umbra.org
Angelo Pontecorboli Editore - Firenze
E-mail: info@pontecorboli.it - www.pontecorboli.com
ISBN 978-88-99695-080-2
© 2020
Printed in Italy, July 2020
Quaderno - Pubblicazione non periodica
Index

5 Beyond the Pit and the Pendulum. An introduction to the third issue of Beyond Stefano U. Baldassarri.
academics
10 Between stereotypes and experience: teaching study abroad students in Florence Federico Damonte
33 Study Abroad: the "discomfort zone" Francesca Passeri
The Cultural Experience Abroad: Spotlight, Shadow and Illusion
39 Pierluca Birindelli
63 Flip the classroom? Challenges in teaching sociology courses with American students Marco Bracci
Firenze and Florence: two faces of a diversified (not disorderly) whole
74 Franco Pisani
alumni/students
84 Life after MARYStudio Marywood University & University of Maryland School of Architecture