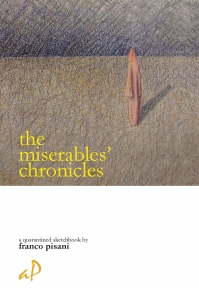 Anno/Year 2023
100 pagine/pages
100 illustrazioni/illustrations.
10,5x15,5 cm.
ISBN 978-88-3384-148-9
€14.00







Condividi la scheda di questo libro


Tweet

Franco Pisani


The miserables' chronicles

a quarantined sketchbook by
Le Cronache dei Miserabili
Schizzi in quarantena di Franco Pisani
Sviluppate quotidianamente e con costanza, a partire dall'infausto 10 marzo 2020, primo giorno di isolamento forzato tra le mura domestiche, le Cronache dei Miserabili, sono una serie di schizzi nati sulle pagine di un taccuino economico, che in realtà si è rivelato solo il primo di una lunga serie, non ancora terminata.
Solitamente nati prima delle 9 di mattina, prima di diventare un architetto e di accendere il telefono, questi disegni sono rappresentazioni di situazioni di stallo e di incertezza derivate da un contesto pandemico, ma anche una terapia salvifica. Momenti di autoindulgenza in cui ho riscoperto il piacere per il disegno.
Prima di connettermi al resto delle cose, solo con le mie penne, matite, acquarelli. In silenzio. Disegno mentre mi attorciglio insieme ai miei pensieri. In questi momenti di sospensione dal reale, la solitudine è al tempo stesso un ostacolo alla realizzazione dei sogni, ma anche una fonte di fantasie e pensieri.
Da dove scaturiscono le Cronache dei Miserabili?
Una scena di un film rivisto per la quinta volta, una frase rimuginata a lungo, una strofa canticchiata, una parola di inciampo che rimbomba incessantemente nella mente, una fotografia con le sue luci e le sue ombre, desideri e ambizioni, speranze e necessità. Una musica, un progetto, un testo, un ricordo, una fantasia, uno stato d'animo: situazioni da cui i Miserabili traggono spunto per mettere in scena le loro povere vite, criptiche e sorprendenti.
E dove portano?
A volte gli schizzi non portano a niente, si affievoliscono e si spengono lentamente, a volte prendono vita, si moltiplicano all'infinito generando nuove scene di una storia frammentaria ma consistente. Questa prima serie di disegni si sono rivelati frammenti ed episodi, che interagendo tra loro hanno generato associazioni stimolanti e hanno suggerito storie e direzioni nuove.

The miserables' chronicles
a quarantined sketchbook by Franco Pisani
Developed daily and with a consistent pace, starting from the ominous 10 March 2020, the first day of forced isolation at home, the Miserables' Chronicles are a series of sketches born on the pages of an economic sketchbook, which, in reality, turned out to be the first of a long series, not over yet.
Usually born before 9 AM, before becoming an architect and turning on the phone, these drawings are representations of situations of pause and uncertainty derived from a pandemic context, but also a saving therapy. Moments of self-indulgence in which I rediscovered the pleasure of drawing.
Before connecting to the rest of things, only with my pens, pencils, watercolors. In silence. I draw as I mumble around my thoughts. In these moments of suspension from reality, solitude is both an obstacle to the realization of dreams, but also a source of fantasies and thoughts.
Where did the Chronicles of Les Miserables come from?
A scene from a film seen for the fifth time, a phrase brooded over for a long time, a verse hummed, a stumbling stone that incessantly echoes in the mind, a photograph with its lights and shadows, desires and ambitions, hopes and needs. A melody, a project, a text, a memory, a fantasy, a state of mind: all situations the Miserables draw inspiration from, to stage their poor lives, cryptic and surprising.
And where are they leading us?
Sometimes the sketches lead nowhere, they slowly fade and slip away, sometimes they come to life, multiply themselves endlessly, generating new scenes of a fragmented but consistent narrative. This first series of drawings turned out to be fragments and episodes, which interacting with each other generated stimulating associations and suggested new stories and directions.
Franco Pisani non ama dare informazioni biografiche perchè -egli sostiene- non significano niente. Una cosa sappiamo per certa: è nato nel 1968 ad Empoli. Siamo anche a conoscenza del fatto che ha passato i primi venti anni della sua vita a Sanremo, a quel punto si è trasferito a Firenze per studiare architettura.
Ha studiato regolarmente fino alla laurea, anche se in realtà non hai mai smesso completamente.
Dal 1997 viene regolarmente chiamato "Architetto", e qualche volta "Professore".
Franco Pisani does not love to give biographic data because-he says-they don't mean anything. One thing we know for sure is that he was born in 1968, in Empoli. We are also sure that
he passed all his childhood and youth in Sanremo until he was nearly twenty; then he moved to Firenze to study architecture.
He studied regularly up to graduation, even if, actually, he never really stopped.
Since 1997 he is commonly called "Architect", and sometimes "Professor".