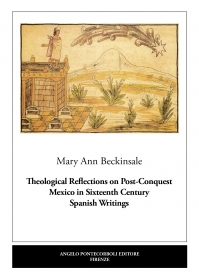 Anno/Year 2021
126 pagine/pages
15x21 cm.
ISBN 9788833841151
€14.00

Utilizzando il codice sconto 2021 potrai usufruire di uno sconto del 5% su tutte le pubblicazioni. Per ordini superiori a € 20,00 spedizione gratuita.







Condividi la scheda di questo libro


Tweet
Altre pubblicazioni di Mary Ann Beckinsale
The Work of Eric Ravilious (1903-1942): Its Origins and Originality

Mary Ann Beckinsale


Theological Reflections on Post-Conquest Mexico in Sixteenth Century Spanish Writings

Completed in fulfillment of her M.Phil at the Warburg Institute of London in 1970, Spanish Theological Reflections is Mary Beckinsale's ambitious and thorough synthesis of various justifications given for the Spanish conquest of the Americas. Republished here with new edits, her research explores viewpoints ranging from Christian missionaries arriving within a century after the fall of Tenochtitlan to accounts by Cortés himself, providing insight into the diverse motives embodied by some of the earliest colonialists. A valuable contribution to scholarship on Spanish and American history, as well as the study of imperialism at large, this book is useful to consider alongside present-day questions of reparation.
Dr. Mary Beckinsale (1946-2019) was a British historian and President Emeritus of Studio Arts College International in Florence, Italy. After earning a BA Hons in Art History from Newnham College, Cambridge, in 1968, she went on to graduate from the Warburg Institute, University of London, with an M.Phil in Cultural Studies in 1970. Her academic research and teaching led her to York, Seville, Milan, and ultimately Florence, where she became Dean of SACI in 1985. She rose to Director in 1995 and President in 2006, and was awarded an honorary doctorate from Bowling Green State University in 2010. Up to and following her retirement, Dr. Beckinsale lectured internationally on numerous subjects related to western art, social history, and feminism.