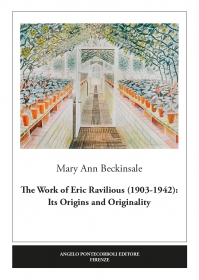 Anno/Year 2020
74 pagine/pages
10 illustrazioni/illustrations.
15x21 cm.
ISBN 978-88-3384-081-9
€12.00







Condividi la scheda di questo libro


Tweet
Altre pubblicazioni di Mary Ann Beckinsale
Theological Reflections on Post-Conquest Mexico in Sixteenth Century Spanish Writings

Mary Ann Beckinsale


The Work of Eric Ravilious (1903-1942): Its Origins and Originality

Preface by Jules Maidoff

Eric Ravilious was a British painter, designer, book illustrator and wood-engraver who only in more recent years has achieved his due recognition among important British artists of the interwar period. This early survey in the form of Mary Beckinsale's graduate thesis for Cambridge University from 1968 gives an overview of the influences that shaped his work and his stylistic approach across different media. Representing an important contribution to Ravilious study, this book also documents the promising beginnings of a talented scholar.
Dr. Mary Beckinsale (1946-2019) was a British historian and President Emeritus of Studio Arts College International in Florence, Italy. After earning a BA Hons in Art History from Newnham College, Cambridge, in 1968, she went on to graduate from the Warburg Institute, University of London, with an M.Phil in Cultural Studies in 1970. Her academic research and teaching led her to York, Seville, Milan, and ultimately Florence, where she became Dean of SACI in 1985. She rose to Director in 1995 and President in 2006, and was awarded an honorary doctorate from Bowling Green State University in 2010. Up to and following her retirement, Dr. Beckinsale lectured internationally on numerous subjects related to western art, social history, and feminism.