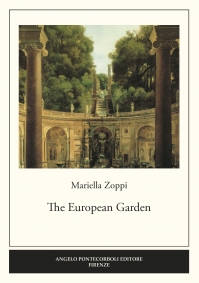 Anno/Year 2016
170 pagine/pages
96 illustrazioni/illustrations.
14,8x21 cm.
ISBN 978-88-99695-14-9
€18.60





Condividi la scheda di questo libro


Tweet
Altre pubblicazioni di Mariella Zoppi
Le Voci del Giardino Storico - Glossario
Nel giardino della Bibbia
Monet e i giardini di Giverny

Mariella Zoppi


The European Garden

TESTO IN INGLESE
ENGLISH TEXT
For an extremely long period the Mediterranean was the almost exclusive site of western culture. Here, the garden became the idealization of a perfect and immutable world, the reflection of nature. It was a romantic ideal of an aesthetic naturalness blessed by the gods and given to men.
Through the ages, aesthetic taste and garden form changed. Its contours transformed from the cloister, an enclosed oasis of peace far from the suffering of the world, into the exaltation of reason and the capacity of man, the interpreter and measure of all things. Gardens successively became the representation of the magnificence of the man-king who consecrates his triumph and his glory. From the 18th and 19th centuries new values affirmed themselves. The French and Industrial Revolutions transformed social organization and established the basis of a renewed aesthetic sense. Nature, mother of all things, permeated the idea of the garden's plan, and gradually, entered and became part of the design for cities.
Mariella Zoppi, architetto e paesaggista, è professore ordinario di Architettura del paesaggio a Firenze. E' stata Preside della facoltà di Architettura e Presidente del Corso di Laurea Magistrale in Architettura del Paesaggio. Ha fondato, sempre a Firenze, la Scuola di specializzazione post laurea in Progettazione dei giardini e Architettura del paesaggio (1997) e il Dottorato in Progettazione paesistica. Ha tenuto la cattedra di Cultura Italiana all'Università di Berkeley, CA (1986) con un corso sui Giardini storici italiani.
Ha contribuito alla redazione di piani urbanistici fra i quali Firenze, Reggio Emilia, Perugia, Montevarchi e piani di gestione di Parchi culturali (Montalbano, Baratti-Populonia); ha progettato parchi e giardini in Italia e all'estero, fra i quali il Bacino remiero di Casteldefels per le Olimpiadi di Barcellona e il Giardino toscano all'Orto botanico di State Island, NY.
Ha pubblicato monografie e saggi sull'urbanistica fiorentina e sui temi del verde. Tra le pubblicazioni si ricordano i tre volumi di Progettare con il Verde (Firenze 1989-1992, r. 2006 ) premio Presidenza del Consiglio dei Ministri (1992), Storia del giardino in Europa (Bari 1995, r. 2009 con testo inglese), I giardini degli inglesi (Firenze 2004), Beni culturali e comunità locali (Milano 2007), Piante, fiori e profumi della Bibbia e Le Colline di Leonardo (Firenze 2009) e i recenti Paesaggio in Toscana. Il più umano di questi mondi (Firenze 2012) e La villa, il giardino, il paesaggio. Un parco per gli Archivi Europei a Villa Salviati (Firenze 2012).
Mariella Zoppi, landscape architect and urban planner, is a full professor at the School of Architecture of the University of Florence. She also has an appointment as Chair of Italian Culture at the University of California at Berkeley, as lecturer on Italian historical gardens.
She has published monographs and essays on issues related to town planning in Florence, and on the topics of parks and gardens. Among her many publications are the three volumes Progettare con il verde (1987, rev. 2006) which received the award of the Presidency of the Italian Ministers' Council in 1992; Storia del Giardino Europeo (1995); Gardens of Florence (1996); Gardens of Fiesole (1999); Cloisters and Courtyards of Florence (1997); Beni culturali e comunità locali (2007); Le Colline di Leonardo (2009); Piante, Fiori e Profumi della Bibbia/Plants, Scents and Flowers of the Bible (2009); Paesaggio in Toscana (2012); La Villa, il Giardino e il Paesaggio (2012); and Le Voci del Giardino (2015).
She contributed to the development of urban Master Plans for Florence, Reggio Emilia, Perugia and Montevarchi. She has also designed parks and gardens in Italy and abroad: among them the park surrounding the Canoe and Kayak Reservoir in Casteldefels for the Olympic Games in Barcelona, and the Tuscan Garden in the Staten Island Botanical Garden, New York.