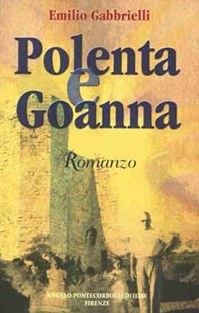 Anno/Year 2000
200 pagine/pages
14x22 cm.
ISBN 978 88 85207 84 7
€12.39







Condividi la scheda di questo libro


Tweet
Altre pubblicazioni di Emilio Gabbrielli
Racconti di fine secolo
Polenta and Goanna

Emilio Gabbrielli


Polenta e Goanna

Romanzo
In un misterioso castello della Libia, dove ha scoperto dei resti inaspettati, il protagonista dal cuore di poeta trova l'ispirazione per raccontare la sua esperienza australiana. Si tratta di una storia basata sull'incontro/ scontro tra due culture, quella italiana e quella aborigena, e le emozioni suscitate nel protagonista che, casualmente, scopre i luoghi ed i personaggi che ne sono la vivida ma fragile testimonianza.
Emilio Gabbrielli was born in Florence in 1948. He has a degree in Chemical Engineering from the University of Bologna, and a post-degree specialization in simulation and optimization of chemical plant design from the same university.
His restless temperament and natural curiosity have taken him around the world: he has lived in Peru, Australia, England, Brazil and Sweden, and worked for long periods in Libya, the United States, Spain, Chile, Argentina, Indonesia and the UAE. He now divides his time between Sydney and Florence.
In tandem with his scientific training and a career in water desalination, services and policies, Gabbrielli has always pursued his creative interests, as a painter and as a writer of prose, poetry and plays.
He has won prizes in Australia for his short stories and for his one-act play, Yvonne. A collection of his short stories was published in Florence by Pontecorboli in 2016 with the title Racconti di fine secolo (Tales of the end of the century).
Polenta e Goanna was shortlisted for the Arcangela Todaro-Faranda Prize for a manuscript ready for publication (Bologna, 1998), and published by Pontecorboli in 2000. The first edition of Barbara McGilvray's English translation, Polenta and Goanna, was published in Milan by Italian Paths of Culture (IPOC) in 2008.

La pubblicazione da parte di questa casa editrice Pontecorboli del romanzo Polenta e Goanna nel 2000 marcò il suo debutto come romanziere. Il romanzo era stato selezionato come finalista del Concorso Premi Biennali di narrativa inedita Arcangela Todaro-Faranda, Fondazione Cassa di Risparmio di Bologna, nel 1998. La pubblicazione originale in italiano fu seguita dalla pubblicazione della traduzione in inglese di Barbara McGilvray da parte di Italian Paths of Culture (IPOC), Milano nel 2008.